Michael and Sean, Our Attorneys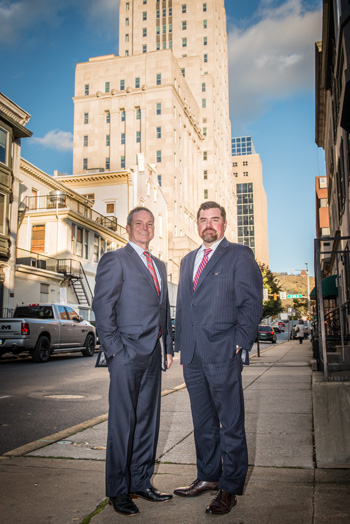 Michael and Sean both grew up in Berks County; Michael graduated from Mt. Penn High School and Sean graduated from Reading Central Catholic. However, they did not meet each other until law school. They had a professional relationship (referring cases back and forth for the last 25 years) and a personal relationship as friends and golfing buddies. Their wives and children have also become close, and they attend each other's family outings. Their longstanding connection led them to decide to join forces and create their own firm. Both have the same work ethic and devotion to their clients and believe this relationship will last for the next 25 years, so they can continue to serve their clients.
Our Practice
At Dautrich & O'Brien Law Offices, P.C. in Reading, PA., our mission is to provide quality legal support and counsel to our clients. We have a reputation for thoroughness and preparedness that is widely recognized and respected in the legal community. We work together, with the client, to achieve the most successful client outcome. We are committed, experienced lawyers who take our responsibilities seriously, knowing that the results we achieve for our clients will have a lasting impact on their lives.
Michael Dautrich specializes in criminal trials and appeals, serious personal injury cases, car accidents, and workers' compensation cases. Michael also handles DUI's, all felonies and misdemeanors, traffic citations, summary appeals, liquor license transfers, and citations, and juvenile law.
Sean O'Brien specializes in Estate Planning and Administration, Wills, Living Wills, Elder, Trusts, Medicaid Planning, Guardianship, Orphan's Court Litigation, and Corporate, Labor & Employment Law.

Our commitment to excellent representation includes:
Giving our clients the attention they deserve.
Explaining all options to help our clients make an informed decision.
Giving our clients as much time as they need to speak with us.
Keeping our clients informed about the status of their case.
Maintaining client confidence.
Looking out for our clients' immediate needs and long-term interests.
Prompt return of phone calls and emails.
We emphasize communication with our clients, persistent advocacy, and attention to all aspects of their case. Regardless of the size of the case, our commitment is to obtain a just result for each of our clients.
We are sensitive to the rich traditions of the legal profession and our community, and we are dedicated to providing our clients with professional service along with vigorous advocacy of their interests. We strive to balance client interests with important individual and community values. It is something we work very hard to achieve.
Our goal at Dautrich & O'Brien Law Offices P.C. is to provide a level of performance and satisfaction that demonstrates to both clients and peers nothing less than the best legal service available. We are immensely proud of our accomplishments and invite you to learn more about who we are, who we represent, and the range of services we provide.
Our attorneys are located in Reading, Berks County, Pennsylvania specializing in Criminal Law, Personal Injury, Motor Vehicle Accidents, more....